As an employer, it is your responsibility to reduce workplace stress in order to improve retention, employee health and engagement. As April is Stress Awareness Month, we have put together 5 ways you can reduce workplace stress, to help you combat these issues.
1. Reduce Excessive Workloads
If employees are snowed under with piles of work, ensure you are working along side them to distribute the work evenly and fairly. Excessive workloads don't just overwork the employee, but the work is not done to the best of their ability, as productivity and engagement is low. Always ensure you cut out unnecessary or duplicate work, making sure deadlines and goals for the work, realistic for the employee within a given time frame.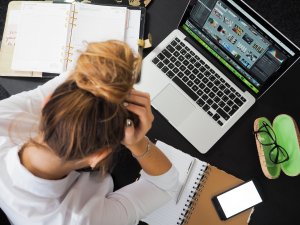 2. Manage working hours
In recent years, there has been an increase in flexible working. If your employees are constantly working long hours, with excessive pressure applied to them, you should take action to change your work culture. Flexible working has been proven to reduce stress and improve employees work-life balance. This gives employees the freedom as to when they do their hours, for example, if they have kids they might want to do the school run before they go to work. You should encourage employees to maintain a good work-life balance, this can include introducing work socials or implementing an early finish on Fridays for everyone.