Engage;
Unrivalled and Unique. Unlike any other workforce management system, we have taken the daily requirement of employees to clock in and out of work and created a facility for Management to communicate key business and wellbeing messages to individuals/teams or all of the business. In addition, Biopanel has a unique function of being able to display flash messages and display business videos as a digital information notice board when not being used for T&A. We can commission video's / H&S message slides/ Worker welfare notices and much more.
Through working with some of the best HR professionals in the UK, we know people find it uncomfortable giving feedback about the running of the business or how happy they are within their work environment when it's face to face with a Manager. However, the Biopanel allows you to ask the questions you want to know the answers to, just by touching a button on a tablet? Easy right? This can effectively deliver key information to your workforce or simply do quick surveys one question at a time. This information is immediately captured into the Biopanel Dashboard for you to utilise or export, using it however you like. The ability to be able to act upon an urgent request and communicate this to all of the business is a revolution in workforce management.
Example;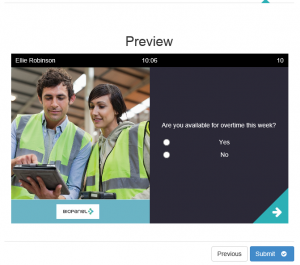 Self-service;
The Biopanel is the one stop solution for you and your workers when it comes to operational workforce management, communication and employee welfare. A few examples of the self-service option are the ability to request holidays, book meetings with HR all in one place at the Biopanel removing the need for paper-based request forms. Your options are endless.
Call or get in touch to learn how Biopanel Systems can add huge benefit to your business by replacing a current cost of your system or adding value and reducing costs by replacing a manual process.
 0844 847 5121
Previous article
Next article